Check out these testimonials about The Morning Mile from teachers, parents, and families!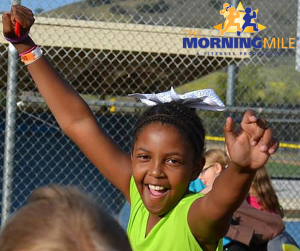 I have been at Norton Elementary School for three years; my prior teaching experience (25 years) has been at the High School level.  I was introduced to The Morning Mile during my one-year teaching assignment at Hidden Oak Elementary.  I started The Morning Mile the very first year that I came to Norton; our PE field was not safe for the students to run when I came, so it took almost two months to get it safe.  But I am proud to say that even though we didn't get started until November, I still had 2 students that reached the 100-mile goal that first year.  I was determined my second year to start earlier, and we started a little sooner, the end of October.  The second year we had about 5 100-milers.  This year, my third year, I am so so so proud of the dedication of some of our Norton Knights!  This year we had 9 students reach the 100-mile goal, and we were delayed in our start again this year.  I am DETERMINED for the next school year to start in September.
I see everyday the benefits to the students that start their day with a good run or walk.  I have teachers regularly say that they see such a difference in certain students that come to run. They are able to sit quietly and focus on their classroom lessons.
I have a hearing impaired 4th grader that didn't start coming to Morning Mile until January this year.  She rides a bus to school and she gets to school early most days, and she saw some of her classmates coming to run, so she decided to try it out.  She is such a "natural" runner; she LOVES to run, and she has encouraged most of her other classmates to come and try Morning Mile; some have stayed, some come occasionally, and some never again.  She reached the 100-mile goal at the beginning of May and her class has logged in over 528.50 miles this year!!!!!
It is so uplifting to see between 75 to 100 students come to run around the field each morning.  I have a few "faithful" parents that come each day to run with their child.  This activity is not only a great choice to help with childhood obesity, it is a wonderful opportunity to socialize with others, and most students just love to come run before having to spend their day sitting in a classroom.
Stephanie
Physical Education Teacher
CW Norton Elementary School
Gainesville, FL
I believe that The Morning Mile definitely has a positive impact on students. When they are awarded their charms, they are very proud, and other students are encouraged to participate. I also believe that it gives students something positive to do in the morning, instead of "getting into mischief".
Diane Russell 
Third Grade Teacher
Poinciana Elementary
Key West, FL
The Morning Mile is a positive and healthy way for students to start their day.  Students with extra energy have an outlet to release that energy.  Teachers appreciate that generally these students come to class ready to learn, and they are better able to focus, as they don't have a constant need to move.  Many students arrive to school early, and they enjoy being active and getting the exercise in before school.  Other students are very competitive and have the opportunity to be recognized for something outside the classroom.  I believe The Morning Mile is a positive program, and when prospective families come to see our school, they will appreciate this opportunity for their child.
Julie Bridger 
Second Grade Teacher
Poinciana Elementary
Key West, FL
I had really good participation this year.  The kids really love it.  They always have good things to say about it.  When I ask the kids what they like about the morning mile, they say they like to race their friends for a friendly competition.  They also said they like the time to talk with their friends before school.  Some said that it's fun and it's a healthy thing to do.  I like that the kids have some social time and physical activity before they come in the classroom.  The kids that participate are not sleepy or sluggish; they are ready to go.
Joan Roman
Kindergarten Teacher
Poinciana Elementary
Key West, FL
My students enjoyed doing The Morning Mile. They said it got them going in the morning. Keithon said that it gives him energy for the day, and Antonio enjoys running.
I like it because it does get them going in the morning, and they strive to do well at it. It also keeps them from getting into trouble in the line up area.
Carolyn Hoffmann 
Second Grade Teacher
Poinciana Elementary
Key West, FL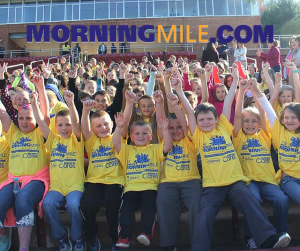 I firmly believe, as a parent and teacher, that The Morning Mile is beneficial inside and outside of the classroom. I have seen an improvement in behavior, eagerness to learn, socialization and a healthy life style for my child and students. Kids look forward to this each morning, and when it's raining or its cancelled there is a sense of disappointment. My son has reported to me that it starts his day off in the right direction, and it makes him feel good. Research shows this is a great program. Get them up and moving!
Angela Van Loon
Poinciana Elementary
Key West, FL
I like that The Morning Mile gives kids a chance to get energy out before entering the classrooms.  I like that it is a positive exercise experience for kids that will hopefully build good future habits.
Lynly Hill 
Kindergarten Teacher
Poinciana Elementary
Key West, FL
This year I can definitely say The Morning Mile was absolutely a blessing!
I would say 85% of my students participated in The Morning Mile on a daily basis.
My group this year was a particularly active one. Without The Morning Mile, it would have been difficult getting through the morning, without being able to release some of the energy they came in with.  I had several of my 1st graders in the top ten in the entire school, for the number of laps ran. Not only has it helped start our day off right, but also because of the increased flow of oxygen, I feel it has also helped to increase focus and concentration.
Days when there was no Morning Mile, I noticed an increase in behavior problems and loss of focus across the board.
Robin Black
First Grade Teacher
Poinciana Elementary
Key West, FL
I love starting my day with The Morning Mile! This is my second school and fourth year of running this program. We had 646 kids run almost 12,000 miles this year! I had a dad whose kid ran over 300 miles and joined the neighborhood track team come up to me this year and say, "without a doubt you've changed my kids life". I can also see the change with other kids who started the year quietly running and are now happy confident kids who reached a goal and feel a part of something bigger. I really love The Morning Mile for what it has done for my son personally, as well as all the other kids' lives it has touched. It's a wonderful program.
Heather Sullivan
Lupin Hill Elementary 
Calabasas, CA
Our 100 students at Healthy Learning academy walked and ran over 5,000 miles this year.  A school record!
The Morning Mile gets them energized to start the day, helps them get their wiggles out first thing, and has actually decreased our tardy problems over the years. If that isn't reason enough for any school to join in, I don't know what else would be. Our parent volunteers run the program and do an amazing job!!
Our virtual tour took us all over South America this year! Last year we "traveled" through Europe and in past years have "walked" across the US and visited all kinds of landmarks.
We have incorporated math (the kids set individual and school goals), geography, history, and social studies into that little half hour block before school even begins.
It is a win-win situation for ALL involved.
Thanks for getting this started and keep up the good work!!
Anni Egan 
Principal
Healthy Learning Academy
Gainesville, FL
I am a teacher at Holiday Hill and The Morning Mile has been invaluable to me as a 5th grade teacher! I have two classrooms of awesome boys and girls, who are energetic and full of life, as 5th graders should be.  The Morning Mile has given them an outlet for the energy that is difficult to confine to the classroom's four walls.  My students, after participating in the Morning Mile, are able to center themselves and focus on the tasks and learning before them.  This means that they can be successful at whatever they attempt, and if they need more reinforcement, they do not get frustrated, but keep pushing themselves to try again.  This program helps build stamina, and that is a skill that I emphasize daily with my students.  More than academics though, The Morning Mile encourages my students (and the entire faculty) to live healthy lives and to make good choices about their health whenever they can.
Thank you for your work to provide my students with this activity!  My students take pride in their miles and, seeing them proud after accomplishing something is the reason I teach!
Mrs. Elvisa Whitworth
Fifth Grade Reading Teacher
Holiday Hill Elementary School
Jacksonville, FL
My 3rd grade daughter ran The Morning Mile all year. What a great program!
When she asked me for permission to participate, I was surprised (I was unsure that she would want to spend her morning running laps) but readily agreed.
My daughter has ADHD, and I thought that her running off some extra energy in the morning might help with her grades. She also was a little heavy for her height, not by much, but her doctor encouraged me to increase her activity.
I started her on medication for ADHD at the beginning of the school year, at the same time she began running the Morning Mile. The combination of the two has drastically improved both her grades and her physical fitness. By year's end she is on A-B Honor Roll for the first time ever, and has lost a few pounds and gotten into great shape. I encourage any parent to have their child participate in the Morning Mile. Often, with homework, after school activities, and tired parents, kids don't have much opportunity to be active after school, and recess is never long enough. A little cardio and fresh air in the morning does them good!
Rebecca Coppedge Brumbeloe
Art Teacher
Biscayne Elementary
Jacksonville, FL
My daughter is in kindergarten and began running The Morning Mile this fall. She fell in love with it and was motivated daily to earn her straws. I loved watching Emma set goals and achieve them. She reached the 100-mile mark in March and was so proud. Hearing her name announced by Coach Tribby as she rounded the track for her 100th mile was a memory that we will never forget. I loved sharing the experience with her and seeing her achieve a goal that was set several months prior. Emma learned how to appropriately pace herself as a runner throughout the year and on several occasions ran 3 miles before her school day even began. Emma is more focused in the morning after running The Morning Mile and can attend better in class. Thank you for creating such a fantastic program!
Andrea Craine
Morning Mile Parent
The Morning Mile to me is bonding experience with my children, watching my daughter find a passion and watching my son realize the fun of exercising. She absolutely loves running, and at the age of 8 already completed her first half marathon. Can't wait to watch what the seed that The Morning Mile planted in my kids' lives is going to bring in the future.
The Morning Mile means healthier children and a better healthier future America.
Caroline Hamilton
Morning Mile Parent
My son, Zachary Bryan (finished 3rd in the Kindergarten class), looks forward to running The Morning Mile everyday!  I really have noticed a change in his behavior at school – he "burns off" some extra energy in the morning and can focus better on his schoolwork.  I've had numerous compliments from his teachers, and I feel that The Morning Mile has greatly attributed to that.  I am able to run with him twice a week, and I see the joy in his face when he reaches his goal for that day.  He runs 1.5-2 miles per day, and I've noticed a big difference in his endurance when he runs around at home or on his local soccer team.  I can't say enough great things about this program – I am very excited that my son is a part of it.
Thank you!
Stephanie Bryan
Morning Mile Parent
My family has benefited greatly from The Morning Mile.  It has done more than just offered the benefit of some early morning gentle exercise.  It has provided an avenue for my kids to learn how to set a goal and make decisions, daily, that affect whether or not they reach the goal they set.  It allows for some nice interactive time for us in the morning.  Our school is generous, in that they allow parents to participate along with the kids.  I love the opportunity to be there and participate with them.  I think it helps set the stage so that they will continue to see the benefit of lifelong engagement in daily exercise.
Morning Milers for Life!
The Millers
Morning Mile Family
I was a teacher at Hidden Oak Elementary when Fitz first launched The Morning Mile program. I remember the excitement of my students when they found out that they could run in the morning and earn charms. The students that ran every morning had much better days. I always dreaded the rain because I knew my kids would be bummed out because they could not run.
Now, I am a parent of a Morning Miler at Meadowbrook Elementary. My daughter, Charlotte, loves getting to school early so that she can start running. In Kindergarten she ran here and there. Unfortunately, our school has a rule that you have to pick breakfast or The Morning Mile, and she wanted to eat breakfast at school. She earned 3 charms. In the beginning of this year (first grade) she decided she wanted to alternate days. She set her own goal that she wanted to get 10 charms. Once she reached that goal in March, she turned a corner and she decided she wanted to run every day. She just finished the year with 17 charms (85 miles). This week's miles do not count for charms, but she still wants to get out there and run. She is already talking about next year and she wants to get 100 miles before Christmas. She is self-motivated, and on days that she has a chance to sleep in she would rather get up and get to school. That motivates me too!
I have never pushed The Morning Mile on her, but the culture at Meadowbrook is so supporting and encouraging of it, she feels like she would be missing out if she does not do it. She wore her necklace to her 7-year-old well visit, and her doctor was so happy to hear that our school has The Morning Mile. He said this program will change the health and well being of our children. Charlotte told him that she likes to do The Morning Mile because it makes her stronger for tennis on Saturday mornings. Thank you Fitz for the program, and thank you sponsors for believing in this program!
Thanks for beginning this MOVEment!  As a classroom teacher, I learned a long time ago to begin and combine learning with physical activity.  The brain thrives on oxygen and an opportunity for controlled increase in respiration provides that environment.
Eve Bradley
Morning Mile Parent
Meadowbrook Elementary
Gainesville, FL
Upon celebrating our second complete year of The Morning Mile program, I wanted to take a moment to reflect the impact of the fantastic opportunity for our 600 plus students at Holiday Hill Elementary.
We all already know the importance of exercise as it helps students achieve and maintain a healthy body weight and regular physical activity helps build and maintain strong, healthy muscles, bones and joints. The said truth is that 74% of children between the ages of 5 and 10 do not get enough exercise on a daily basis. This is specific to the demographics of Holiday Hill Elementary. That is why The Morning Mile program is so important for our school students.
As an ESE teacher, I know the relationship between exercise and a successful good day at school. Exercise aids in the development of important interpersonal skills, and research shows that exercise improves the quantity and quality of sleep. Most important to me is that exercise promotes improved school attendance and enhances academic performance, which is so vital to our struggling students. It gives me the opportunity to work with them to erase deficits and improve on grade level expectation curriculum.
I love that The Morning Mile students have greater self-esteem, and also these are the same students who have fewer symptoms of anxiety and depression and have a better overall mood. It also is known that this opportunity and participation prevents or delays the development of many chronic diseases (e.g., heart disease, diabetes, obesity, hypertension) and promotes health.
It takes a strong commitment to run a 180 school day program, and I am so glad our school's PTA has taken on this endeavor to improve the mental and physical condition of our school's students. In a decade where video games have been blamed for everything from antisocial behavior to violent outbursts to America's obesity epidemic, it is good that we can offer a program at Holiday Hill that counteracts this epidemic and brings good old fashion outside activity back into a child's life.
Thanks again to our PTA for running and supporting this program. I hope that future PTA leaders will continue the hard work you have developed and adopt this program in future years and prove that exercise can make the difference in behavior, health, and academics guiding our school to the success we all are reaching for by any means possible!
Mark E. Dancer
ESE teacher
Holiday Hill Elementary
Jacksonville, FL
The Morning Mile has been extremely beneficial to our students this year. It gives our students the opportunity to wake up in the morning and arrive to class ready to work.  The students love seeing how many laps they walk or run and then converting them into miles.
Thank you for this great program!!
Sharon Ostroski
Fourth Grade Teacher
Holiday Hill Elementary
Jacksonville, FL